Taking a shower invigorates and refreshes, and helps start your day right. Different bathroom fixtures are available in the market to give consumers a choice regarding how they want their bathroom to look, for convenience, aesthetic appeal and practicality.
Choosing fixtures to enclose the shower area in your bathroom depends on the overall impact it will have on the entire bathroom. It is also a practical installation if you have a small bathroom and need to utilise all functional space to enhance the bathroom's look and feel.
A shower enclosure can either have one or more panels. It can also have a door, or not, depending on the available space and the style the homeowner prefers. You also have the option to choose an enclosure with its own tray, or without a tray.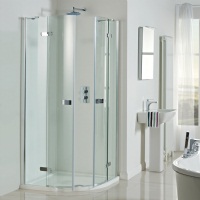 With so many things to consider when it comes to decorating a bathroom, here are the top priorities.
1.      Available space in the bathroom
The first thing to consider is the available space. The size and shape of a regular shower enclosure depends on it. Think of why you want to create the shower enclosure for: an en suite, separate shower room, or main bathroom. Likewise, consider how much room you have in the spot you have chosen, and the available height. The position is also important as it determines the configuration of the enclosure you need to purchase. Consider as well the plumbing work required for a new enclosure. If you are replacing an old one, you'll be able to save on costs for plumbing and installation of hot and cold pipes if the enclosure can be placed in the same spot.
2.      Type of glass
Different shower enclosures use different types of glass for their doors. Consider these points:
Tempered glass (8mm or 10mm thick) – easy to clean, safe, long-lasting and durable
Toughened safety glass – another good choice
You also need to keep in mind that more support is needed for thicker glass because of the additional weight. Moreover, thinner glass is used for enclosures that are larger and have more curves. If you have a limited budget, enclosures in 4mm- or 6mm-thick glass would work fine. Choose one with protective framing to prevent breakage and chipping, particularly on the door(s). The framing also helps support the weight of the glass.
3.      Trays
Decide whether you want an enclosure only or an enclosure with tray. The tray is designed to fit the shower doors to reduce or prevent water leakage. If you want a recessed shower, be careful about the size of the shower door and the tray.
When choosing or installing a shower enclosure, you should always consider the size of your bathroom, the proper location and its fittings so that that doors, when opened, will not encounter any obstruction.
Image:  www.jtspas.co.uk